In [lets's share books] Calibre plugin a librarian gets her name shuffled from the list of great librarians of today and the past. Given name can be saved (by clicking [SAVE]) or let the new name appear every time one restarts Calibre. During the session librarian's name can be changed by clicking [NEW] (see screenshot below). That said, the better future will appreciate if you use [EDIT] button, recognize the importance of a civil disobedience today and become a brave librarian who share her book catalog under her own name.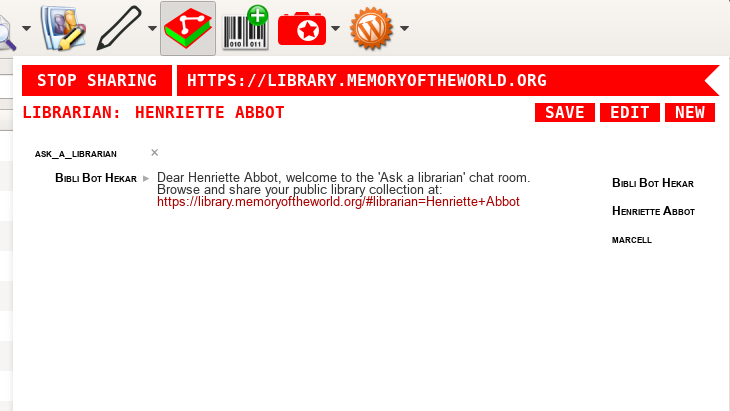 Here is the list compiled together with Femke Snelting:
Ezra Abbot Bible scholar and library assistant at Harvard. Orders the internal card catalog to be opened to an interested outside readership.
Regina Andrews Groundbreaking librarian, fighting for equal pay and against sexism and racism. First African American Supervising Librarian in the New York Public Library system.
Henriette Davidson Avram Computer programmer and systems analyst who developed the MARC format (Machine Readable Cataloging).
Dušan Barok Initiator and principle librarian of Monoskop, a wiki-based portal for collaborative research in media art and culture.
Adam Bartsch Developing a set of detailed and anticipatory behavioral guidelines for librarians. The commands are enriched by a flowchart, guiding order and approach to coordinated practice.
Pura Belpré First Puerto Rican librarian in New York City, advocate for the Spanish-speaking community. Also a writer, collector of folktales, and puppeteer. Walter Benjamin "I am unpacking my library. Yes, I am. The books are not yet on the shelves, not yet touched by the mild boredom of order."
Hugo Blotius First librarian of the Royal Court library at Vienna. His project of cataloguing it's collection was an example to demonstrate how future catalogs could be handled.
Ethel Martin Bolden Pioneering librarian, civil rights activist. Created libraries in black elementary and middle schools in South Carolina. Jorge Luis Borges Writer, poet and thinker who imagined libraries and their catalogs as magical realities.
Howard Brown Campaigned to have books about the gay liberation movement at the Library of Congress reclassified from "Abnormal Sexual Relations, Including Sexual Crimes" to "Homosexuality, Lesbianism---Gay Liberation Movement, Homophile Movement"
Jacques Charles Brunet Published in 1810 the catalogue Manuel du libraire et de l'amateur des livres, the first European book of its kind where works are arranged in classes according to their subjects.
Bookwarrior He is an admin of Library Genesis.
Joseph Green Cogswell Librarian, bibliographer and an innovative educator. Managed the library of Harvard College, exemplifying the contemporary reception and dissemination of library science.
William Croswell Lazy librarian who invented a cut-up catalogue of the Harvard College Library, a system that affords mobility, flexibility, and reordering of the respective units.
Robert Darnton Director of the Harvard University library, pioneer in the field of the history of the book. Founder of the Gutenberg-e program.
Melvil Dewey Inventor of the Dewey Decimal system of library classification. Introduced the concepts of relative location and relative index which allows new books to be added to a library in an unambiguous location based on subject. The notation makes use of three-digit Arabic numerals for main classes, with fractional decimals for details.
Sean Dockray Initiator of The Public School and AAAAARG.ORG, a crucial site for the sharing and discussion of texts drawn from cultural theory, politics, philosophy, art and related areas.
Electra C. Doren Librarian, innovator, and suffragette. Invented schoollibraries and bookmobile services.
Alexandra Elbakyan She is a neurotechnology researcher, a free software advocate, and a developer. She is a founder of Sci-Hub one of the main sites that circumvents the scientific publisher's paywalls. She uploaded at least half of more than 41 million paywalled scientific papers to the Library Genesis database and worked actively to create mirrors of it.
Charles Folsom Librarian at Harvard. Mistrusts the unconventional card-indexing procedures and meticulously transfers the "sheet catalogue" back into a bound catalog.
Henri La Fontaine International lawyer and winner of the Nobel Prize for Peace in 1913. Early advocate for women's rights and suffrage, and cofounder of the Institut International de Bibliographie along with Paul Otlet.
Conrad Gessner Naturalist and bibliographer. His five-volume Historiae animalium is considered the beginning of modern zoology.
Kenneth Goldsmith Poet and habitual editor of the prolific archives at UbuWeb, a resource for avant-garde material available on the internet.
Thaddeus William Harris Wrote A Treatise on some of the Insects of New England which are Injurious to Vegetation and also a Systematic Catalogue of the Insects of Massachusetts.
Georg Philipp Harsdorffer Completes the idea of an excerpt collection as an ordering of paper slips in a box with twenty-four drawers in alphabetical order.
Aaron Swartz The Internet's Own Boy.
Charles Coffin Jewett Prototyped in 1853 the "mud catalog", compiling data on individual clay printing plates, arranged in alphabetical order in a central memory bank. It allowed for uniformity, flexibility, and consistent up-to-dateness.
Joachim Jungius First practitioner of nonhierarchical indexing, compiled approximately 150,000 slips of papers with accumulated knowledge, but without registers or indexes or reference systems.
Kovid Goyal Creator and principal developer of calibre, a comprehensive suite of utilities for managing, converting and viewing e-books in digital formats.
Markus Krajewski Developer of the bibliographic software Synapsen: A Hypertextual Card Index and author of "Paper Machines: About Cards & Catalogs"
Léonie Lafontaine Initiated L'Office central de documentation féminine, a resource center for young women as part of the Belgian Institut National de la bibliographie.
Gaspard Michel Leblond Wrote detailed instructions to teach untrained library employees how to compile catalogs after an exactly agreed-upon procedure.
Gottfried Wilhelm Leibniz Mathematician and philosopher in the habit of sticking small labels to repositories indicating what was contained on every shelf of his library. In this way he maintained a topical order, ignoring different formats.
Gotthold Ephraim Lessing Energetic librarian/dramaturg tenured at the ducal library in Wolfenbüttel. On random walks through the library, he discovered forgotten and unexpected books, bypassing any index or catalog.
Audre Lorde Caribbean-American writer, warrior poet and civil rights activist. Library scientist working on intersectionality and theories of difference.
Sebastian Luetgert Writer, programmer, media artist and activist. Started textz.com, a database containing all kinds of texts by institutions and individuals under the motto «the & in copy & paste»
Johann Jakob Moser Prolific lawyer, promoted the use of excerpts as a method for collecting material for future writing.
Makoto Nagao Computer scientist who developed Ariadne, an ideal digital library system. This influential prototype provided automatic translation and automatic text readings. *
*Brewster Kahle** He is an American computer engineer, Internet entrepreneur, internet activist, advocate of universal access to all knowledge, and digital librarian.He is the founder of the Internet Archive, the Internet Credit Union, Alexa and Thinking Machines and a member of the Internet Hall of Fame.
Gabriel Naudé 17th century scholar who wrote an influential manual on how and why to establish a library.
Paul Otlet Utopian, lawyer, documentalist and pacifist, father of information science. Wrote numerous essays on how to collect and organize the world's knowledge. Created the Universal Decimal Classification system, invented the index card and founded the Mundaneum.
Vincentius Placcius Wrote "The Art of Excerpting" in which he recommends grouping annotations in excerpt books or bound library catalogs.
Shiyali Ramamrita Ranganathan Developed the first major analytico-synthetic classification system, colon classification. The system consists of five primary categories: Personality, Matter or property, Energy, Space and Time.
Franz Stephan Rautenstrauch Devoted himself to the production of a "Catalogo Topographico," following the principle of using it as a basis for all other catalogs.
Johann Wilhelm Ridler Led the Vienna University Library from 1813. Declared the card index to be the indispensable basis for cataloging and a guarantee for long-term access.
Angela Ruiz Robles Teacher, writer, inventor and pioneer of the electronic book. She invented the first mechanical encyclopedia in 1949.
Abbe Rozier Contributes to the development of a card-catalog system by copying data onto uniformally cut sheets so they could be shuffled, ordered, and exchanged.
Carol Seajay Curated groundbreaking special libraries inside feminist and lesbian bookstores and informed library collection development by providing bibliographies through the Feminist Bookstore Network.
John Langdon Sibley Worked with Ezra Abbott on making the Harvard card catalog available for public use.
Gerard Van Swieten Personal physician of the Austrian Empress Maria Theresa. Aggregrated several existing catalogs and arranged reference books alphabetically by author, nearly fullfilling the promise of a universal catalog.
H. G. Wells Author of World Brain, an essay collection describing a new, free, synthetic, authoritative, permanent "World Encyclopaedia" that could help citizens make use of universal information resources.
Rick Prelinger He is an archivist, associate professor at the University of California, writer and filmmaker, and founder of the Prelinger Archives, a collection of 60,000 advertising, educational, industrial, and amateur films acquired by the Library of Congress in 2002 after 20 years' operation.
Aristophanes of Byzantium He succeeded Eratosthenes as head librarian of the Library of Alexandria at the age of sixty.
Nadežda Krupskaja She was a Russian revolutionary and politician. From 1929 until her death in 1939 she was Soviet Union's Deputy Minister of Education. She immensely improved education and library system as well as the librarian profession in Soviet Union.
Georges Bataille He was a French intellectual and literary figure working in literature, anthropology, philosophy, economy, sociology and history of art. He was an archivist and a librarian at the Bibliothèque Nationale.