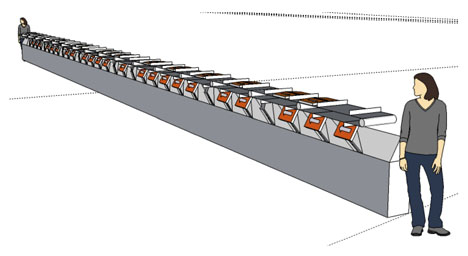 Venue: DCRL, Am Sande 5 (second floor, map)
In Lüneburg at DCRL , from April 17-20, the Public Library will gather together software and hardware developers, amateur librarians and researchers working on the topics and issues of curation, cataloging, and sharing books; rethinking user interfaces for reading, editing, compiling digital books; workflows of digitization; durability, longetivity and robustness of today's (shadow) libraries.
Amateur librarians (Dubravka Sekulić, Anthony Iles, Spideralex, Tomislav Medak) will continue to care about books and collections at https://library.memoryoftheworld.org. A collections like KOK (Katalog oslobođenih knjiga, en. Catalogue of Liberated Books)1, The Midnight Notes2, feminism, biopolitics, ecomonomics, New Left Review etc.
Bodó Balázs will present his research on digital shadow libraries "in the post-scarcity era", from Gigapedia to Library Genesis. Developers (Jan Gerber, Sebastian Luetgert, Marcell Mars, Robert Ochshorn, Dany Qumsiyeh, Klemo Vladimir) will present (and develop further) their work on Linear book scanner3, Hyperopia, Open Media Library, Memory of the World.
The three days of Public Library gathering will move, merge and convert from format to format, from workshop to hackathon to unconference to presentation to lecture to boredom to fun.
Program
Friday, April 17:
18:30 - All participants: Introduction. Update on recent research and development. Plans for the hackathon/workshop.
20:30 - Dinner
Saturday, April 18:
11:30 - Tomislav Medak and Marcell Mars: Exhibition and Conference Public Library in Zagreb (May/June); Hackathon in Labin (June)
12:00 - Bodó Balázs: Shadow libraries
13:30 - Lunch
15:30 - Spideralex, Dubravka Sekulić, Anthony Iles, Tomislav Medak: Workflow I: metadata, collections, repertoriums
17:30 - Jan Gerber, Sebastian Luetgert, Klemo Vladimir, Marcell Mars: Workflow II: data, networks, distributions
Sunday, April 19:
11:30 - Dany Qumsiyeh: Linear bookscanner
12:30 - Dany Qumsiyeh, Robert Ochshorn, Tomislav Medak, Marcell Mars: Workflow III: scanning
14:30 - Lunch
16:30 - Robert Ochshorn, Jan Gerber, Sebastian Luetgert: Workflow IV: read, reference
---
KOK (Katalog oslobođenih knjiga, en. Catalogue of Liberated Books) is a collection digitized using the DIY book scanner at MaMa in Zagreb. It was primarily created with the aim of making available literature in Marxism, humanities, labor history and political economy/economics produced during the period of socialist Yugoslavia.↩

The Midnight Notes collective, which marked a coming together of various radical strands of US left politics, began publishing its journal in 1979.↩

Yes, famous vacuum cleaner flipping pages...↩